Last week we cleaned and preserved a vintage silk wedding dress from the late 1940's. The story accompanying this dress is worth telling. A similar story is recorded in the Iowa Historical Society Archives. In 1947 when a then young Iowa soldier stationed in France returned home he brought with him a parachute which he had captured during the war. (Actually part of it) The parachute was given to the mother of the young woman he had known in school and planned to marry. This woman would eventually become the great grandmother of our bride today. The great grandmother and her sister later made a wedding dress for her daughter (our bride's grandmother) since there was little money and after the war fine textiles were hard to find, particularity silk. The bride's mother knew of the dress made from the captured parachute through letters she had read over the years and suspected that it was "neatly tucked away" in an old trunk in the attic but had never seen the dress. After some un-trunking of old family things, with her mother's help, they found this dress in the family home attic.
The material was originally a part of a German parachute captured by this bride's great grandfather, an infantryman in Europe during World War 2. Apparently silk was used for parachutes, yet very expensive, as a fabric which produced ease in handling, light weight, durable, snag resistant, easily confinable, and in parachutes allowed for a gentle landing and air management. This gown represented only a part of the parachute. The rest of it was shared by the great grandfather with some village women where the soldier was captured. Yet some local women wanted nothing to do with the parachute since it was German and the Germans had invaded their country. The German soldier was captured after his plane was downed and he spent his remaining war time in a prisoners of war camp in France.
The remaining portion of the parachute was divided among some of the village women who helped in this adventure. As the story goes, their intention was to make some knickerbockers (personal undergarments) for themselves since silk was not readily available to them.
Our bride wore her grandmother's dress in a recent wedding in Western Iowa. The dress was a plain off white dress with simple design yet well preserved and kept.
A local seamstress was able to make some simple modifications for fitting and the wedding was beautiful.
Iowa Bridal Preservation
was asked to restore the gown and press it ready for the upcoming wedding. This bride had her wedding reception her home town in Iowa and her great grandmother then 95 was able to attend the wedding and reception and was "so proud of her great grand daughter wearing this wonderful dress from so many years ago."
Having been previously restored by Iowa Bridal Preservation after the wedding the gown cleaned beautifully and a full Museum Care Process tm was applied and the gown was then enveloped in our wonderful muslin and placed in one of our treasured Archival Museum Care tm wedding chests.
This simple story is not too rare an event following the war, as many surviving solders were returning would bring with them war related artifacts. There seemed to b e weddings everywhere, and thus the beginning of the baby boom as we know it today. Below is the gown we finished at Iowa Bridal Preservation, and the one to the right is on display at the Smithsonian which carries a similar story.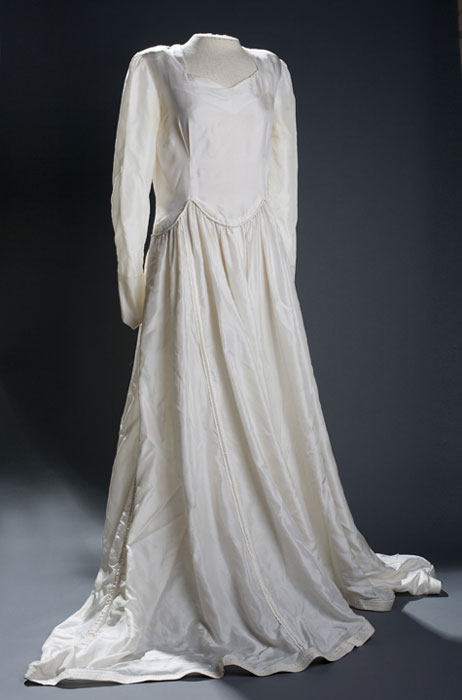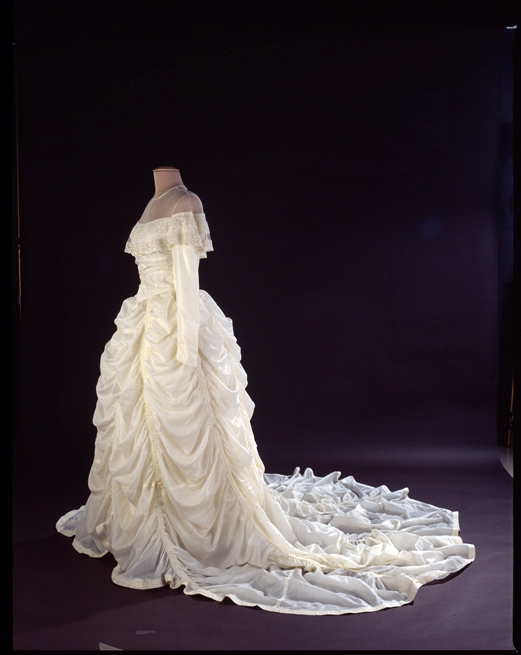 by Ed | Sep 30th, 2013 | Comments are closed.