Emergency Bridal Kits at Iowa Bridal Preservation
Emergency Bridal Kit - $35
Iowa Bridal Preservation Exclusive / The Emergency Bridal Kit-Every Bride's Must-Have Accessory
Because on your special day, little emergencies always happen, we have assembled a carry along emergency accessory kit to help eliminate catastrophe. The use of its content, as needed, will help make the most important day in your life a trouble free one and alleviate the worries of anything that could happen by having items on hand to deal with anything that does happen.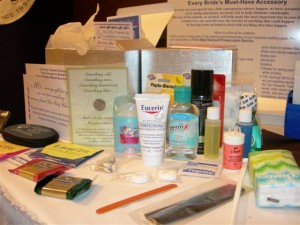 Here is a list of its content:
A $25 coupon to save on the cleaning and preservation of your wedding gown. Preserve your Gown with our Five-Step Diamond Preservation Service
Hair spray
Mouthwash
Sewing kit for repairs
Band aids
Extra safety pins
Extra straight pins
A comb
Hand lotion
Emery board
Kleenex tissue
Extra buttons
Extra sequins
Extra beads
Extra gown buttons
Q-tips
Cotton balls
Mints
Chocolates
Bobby pins
Hand sanitizer
Upset tummy tablets
Headache tablets
Tweezers
Nail clippers
LintUps for lint removal
Smelling salts for nausea and fainting
2 Stain removal solutions with directions
Janie sticks for grease stains
White and colored sewing thread
A Silver Sixpence for your shoe on a gift card
Deodorant
Scissors
2 Straws for saving your lipstick while drinking
A 10% Savings Gift for you on our pre-wedding services:
Tuxedo rental, chair covers and linen rentals, alteration and remodeling, heirloom and vintage restoration, cleaning.